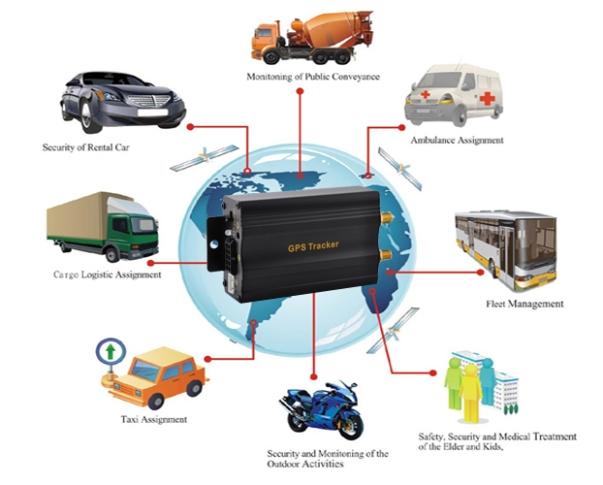 What are tracking devices?
Devices with GPS are used for tracking, finding locations and sending the information remotely.
Most often used communication technologies are GSM networks, ZigBee, Bluetooth, WiFi. Next to GPS location, devices can send other information, depending on what is supported on the device.
Communication can be bidirectional.
Some devices can work with their own battery.
Some devices have internal memory.
Some devices have user interface.
Some device have movement sensors.
Most of the devices have an alarm contact and analog voltage meter.
Some devices have standard interface RS 232, TTL and CAN to allow connections to other equipment.
Some devices have rubber cover that make the devices waterproof.

Device characteristcs
All devices have TRI/QUAD Band GSM/GPRS Modules.
All devices have latest SIRF III GPS Technology onboard.
The devices have several options of backup Batteries.
Software and Firmware can be replaced even over the Air.
All devices speak basically the same language.
All devices have charging intelligence onboard.
All devices can store up to 300.000 Positions.
Routing between interfaces Bit by Bit / Line by line.
All GSM based ways of communication can be used.
All hardware components can be separately switched.
Several sleep modes and wakeup conditions can be setup.
Changes on software can be done while runtime.
Full approved in CE, E and FCC.
High temperature ranges.
Adjustable IO handling and definition of functionality.
Movement monitoring through adjustable 3D Motion Sensor.
TCP/IP Stack onboard.
Falcom OS and BIOS onboard.
Low airtime costs through binary data transmission.
Adjustable history data transfer.
Onboard GEO Fence and GEO Ares monitoring.